Wire Mesh Fence
Welded Mesh Fence
Double Wire Fencing
Temporary Fence
358 Mesh Fencing
Palisade Fence
Razor Wire Fence
Airport fence
Sports Fence
Fence Post
Hex Metal
Metal Wire
Wire Mesh Panels
Chain Link Fence
Gabion Box
Hexagonal Wire Netting
Welded Wire Mesh
Expanded Metal
Square Wire Mesh
Fiberglass Mesh
Shade Netting
Wire Mesh Demister
Agricultural Equipment

Add: 585 South of Zhonghua Street, Shijiazhuang Hebei , China.
Tel: +86-311-67260097
Fax: +86-311-67260097
Mobile: +86-13785110811
E-mail:sales@feiruitrade.com


Palisade Fence
Introductions: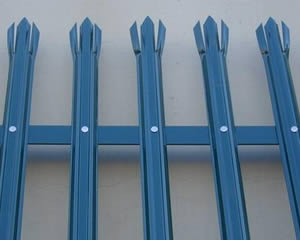 Palisade fencing is one of fencing series. It is used in England at first. Now palisade fence is widely used at home and abroad. Palisade fencing instead of the brick wall or heavy fence makes your life environment clear. It is widely used because of people's environment pursuit, publicity of personal cleanliness and the pursuit of foreign style. Palisade fencing with beautiful structure and various styles are popular and widely used.
Product features: Palisade fence has the features: high strength, good rigidity, structural stability, anti- corrosion, and beautiful appearance, wide vision, low price, various colors, styles and easily install.
Materials: high quality steel sheet, hot dipped aluminum-galvanized steel sheet, cold rolled steel and hot rolled steel.
Process: stamping, hot-dipped, spaying plastic, PVC anti- corrosion treatment
Uses: They are used as protective fence or decorations in buildings, residential sites, industry, agriculture, city government, schools, lawn, garden roads, and transports.
Types: Palisade fencing is divided into two types according to the shape of the cross section: "D" type fence and "W" type fence.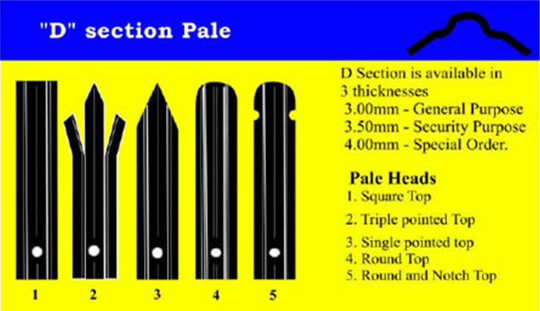 D type palisade fencing
D section pale:
D section in 3 thickness:
3mm: General purpose
3.5mm: Security purpose
4mm: Special
Pale Heads Types:Square top, tiple pointed top, sngle pointed top, rund top, rund and notched top.
Height: 2.75m
Width: 1.8m-2.35m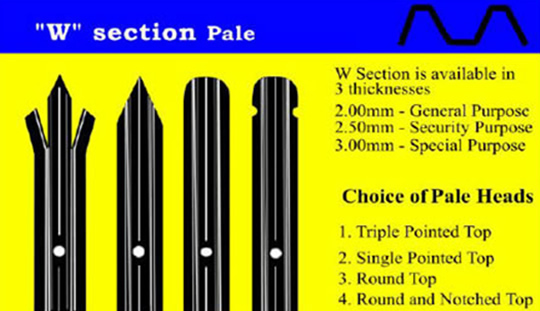 W type palisade fencing
Thickness:
2mm: general purpose
2.5mm: security purpose
3mm: special purpose
Pale head types:Triple pointed top, single pointed top, round top, round and notched top.
Height: 2.75m
Width: 1.8m-2.35m
| | |
| --- | --- |
| Standard height | Pale section |
| 1.2m | 3.0mm "D" |
| 1.5m | 3.0mm "D" |
| 1.8m | 3.0mm "D" |
| 1.8m | 3.0mm "D" |
| 1.8m | 2.0mm "W" |
| 2.0m | 2.0mm "D" |
| 2.0m | 3.0mm "D" |
| 2.0m | 2.0mm "W" |
| 2.1m | 3.0mm "D" |
| 2.1m | 2.0mm "W" |
| 2.4m | 2.0mm "D" |
| 2.4m | 3.0mm "D" |
| 2.4m | 2.0mm "W" |
| 2.4m | 2.5mm "W" |
| 3.0m | 3.0mm "D" |
Notes of installing fence:
1. When installing, make sure the line is straight just for one time and the bolt are tightened.
2. Make sure for the effect on the whole. Please take into account the line of posts before crossing the posts.
3. Make sure for accuracy of measurement, in case of the unnecessary trouble.
The fencing specifications:
1. The standard palisade fencing is made of hot rolled steel and cold roiled steel.
2. The palisade fence panel is made up of 17 low carbon steel panels with the "D" type or "W" type top.
3. When using the palisade fencing, the type with the standard height of 2.75m is widely used. And this type of palisade fencing is easy to install.
4. Special specifications and fence panels or hosts are available as customers' request.
The standard hosts using to install into the wall can be made according to request.
Palisade fencing applications:
The palisade fencing with special style, various colors and beautiful appearance is widely used as protective or decorative fence in communities, residential sites, gardens, parking and roads.
Residential application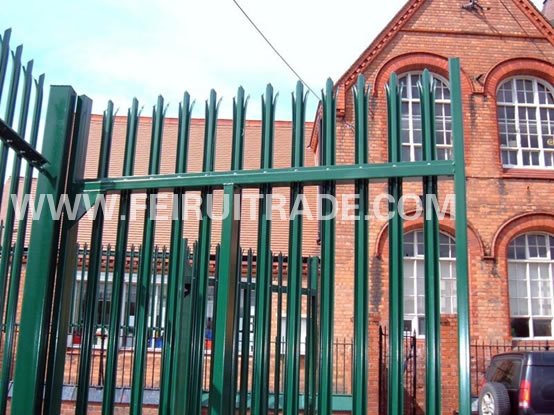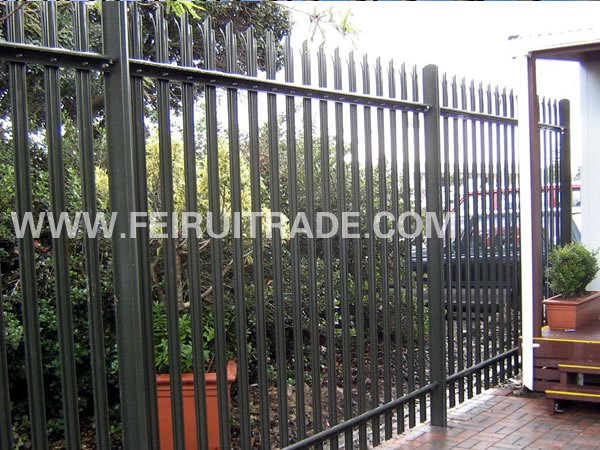 ADD: 585 South of Zhonghua Street, Shijiazhuang Hebei , China. 050093