Wire Mesh Fence
Welded Mesh Fence
Double Wire Fencing
Temporary Fence
358 Mesh Fencing
Palisade Fence
Razor Wire Fence
Airport fence
Sports Fence
Fence Post
Hex Metal
Metal Wire
Wire Mesh Panels
Chain Link Fence
Gabion Box
Hexagonal Wire Netting
Welded Wire Mesh
Expanded Metal
Square Wire Mesh
Fiberglass Mesh
Shade Netting
Wire Mesh Demister
Agricultural Equipment

Add: 585 South of Zhonghua Street, Shijiazhuang Hebei , China.
Tel: +86-311-67260097
Fax: +86-311-67260097
Mobile: +86-13785110811
E-mail:sales@feiruitrade.com


358 Mesh Fencing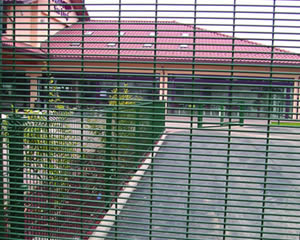 Introduction and help
Why is it called 358 Mesh Fencing?
'358' comes from its measurements 3" x 0.5" x 8 gauges which equates to approx. 76.2mm x 12.7mm x 4mm (Length x height x Diameter) in metric. 358 security fences are extremely difficult to penetrate, with the small mesh aperture being effectively finger proof, and extremely difficult to attack using conventional hand tools. 358 fences are recognized as one of the most difficult breakthrough barriers, because it is difficult to climb. It is called security fencing and high- strength fencing. 358 security fencing panel can be bent in part to enhance the aesthetic effect.
While 3510 Security Fencing has many of the attributes of 358 Security Fencing and its main strength is it's lighter. Using 3mm wire instead of 4mm allows even better visibility allowing a wider variety of applications. It's lighter and cheaper so it's ideal for commercial applications.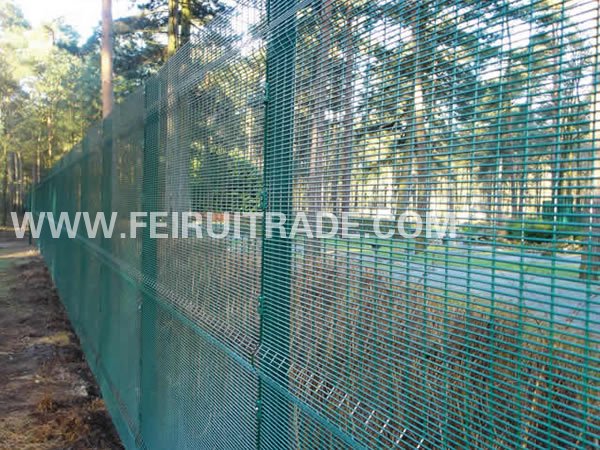 panels

Posts

Fence

Panel size

Post Size

Post Height

Total number of clamps

Height

Height/Width

Length/Width/Thickness

1 Inters Post

2 Corners Posts

m

mm

mm

mm

2.0

2007 x 2515

60x60x2.5mm

2700

7

14

2.4

2400 × 2515

60x60x2.5mm

3100

9

18

3.0

2997 x 2515

80x80x2.5mm

3800

11

22

3.3

3302 x 2515

80x80x2.5mm

4200

12

24

3.6

3607 x 2515

100x60x3mm

4500

13

26

3.6

3607 x 2515

100x100x3mm

4500

13

26

4.2

4204 x 2515

100x100x4mm

5200

15

30

4.5

4496 x 2515

100x100x5mm

5500

16

32

5.2

5207 x 2515

120x120x5mm

6200

18

36
Features: Anti-climb: More small openings, no toe or finger holds.
Anti-cut: robust wire and welded joints make cutting very difficult.
High-strength: The superior welding technique and process control create a stronger fusion between the wires.
Finish treatment:
There are two treatment types: hot dipped galvanized and plastic coated.
The colors of plastic coated are mainly green and black. Each color is available according to your require.
Applications:
Bridge anti-climb guarding & guard safety screening
Psychiatric hospital security fencing
Prison Security Fencing
Factory Machine guards
Walkway security fencing
Airport security fencing
Shipping Port Security fencing
Electrical sub-station fencing
Gas pipelines Security Fence
Connection type of post and fence panels, as follows:


Post type:The post type is main square post. The feet are combined with cement support with the rivet.
High security living area and private field fence.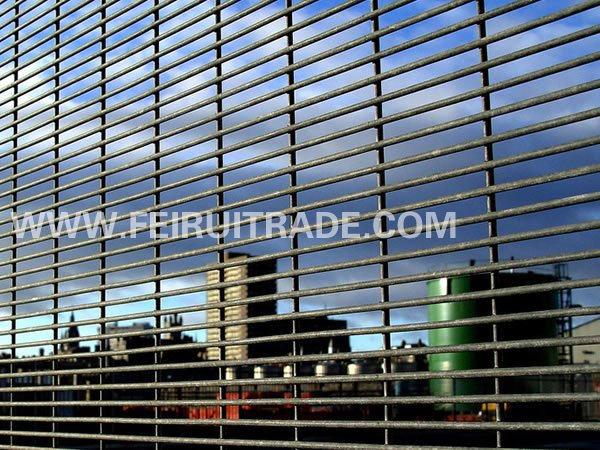 ADD: 585 South of Zhonghua Street, Shijiazhuang Hebei , China. 050093